What does a couple do when family and friends live near and far and cannot travel to witness their wedding ceremony? They Skype!!! So, it was dueling laptops as Jérome connected with his family in France, and Bonnie connected with her mother and other siblings in the States.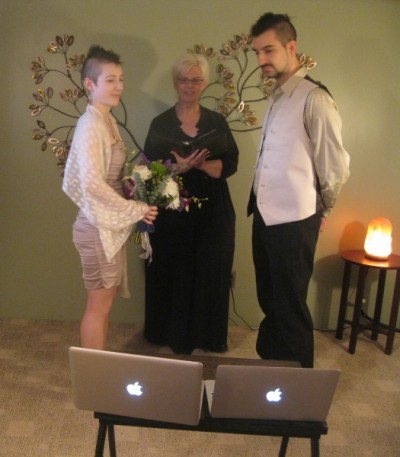 Bonnie's mother. Carole, enlisted Ellie to translate the ceremony as we went along. What a beautiful experience to see love travel from Bonnie and Jérome, across the country and ocean to the ears of their loved ones. Rings and kisses were exchanged and it was official – they were now married!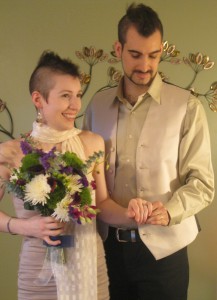 Bonnie's sister, Joy, and her
husband Jonathan (who were guests) popped the cork on a bottle of champagne and we all toasted the bride and groom. Joy brought a celebratory tiramisu (vegan, of course) which was thoroughly enjoyed. What a sweet ending to their very happy wedding!!!