That's the advice people always give to couples on their wedding day.  Is it even possible?  Getting married is a momentous step in a couple's life, and it's normal to feel nervous.  I think of it more as excited anticipation – like the night before your first day at school, a new job, or leaving for vacation . . . only on a grander scale!  It's important to surround yourselves with people who care about you and support you on your wedding day – to be cheerleaders, hug givers, hand holders, tear wipers and most of all . . . a reassuring and comforting presence.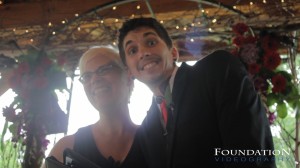 As an officiant, that's a very significant part of my job.  Most people think I might only stand up front and lead the bride and groom through their vows and make it official after the 'I do's' have been said.  That's the legal aspect of my job.  I'm also there working behind the scenes with them, making sure all the elements are in place for their ceremony and coordinating with all their wedding professionals.  My role as part of their support system comes into play most during this pre-wedding hour.  It's one of the facets of my job that I love – not only the honor of declaring them married, but to help them prepare for the emotions of the day, to reassure them that all will be ideal just as it occurs, and to be present with and for them from beginning to end.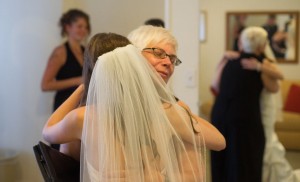 Photos courtesy of Foundation Videography and Chris Hayes Photography.