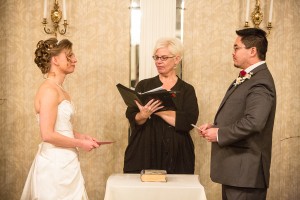 You don't have to be a poet to tell your beloved how special they are, as long as you write from your heart. On your wedding day, there are special things you want to say – just not in a public forum. A Love Letter Box is an ideal addition to your ceremony – an opportunity to privately share the sentiments in your heart.

Renee' and Michael, did just that on their wedding day. They each wrote a love letter to the other expressing all they were feeling during their courtship and the days leading up to their wedding day.
During their ceremony, they placed these letters into a unique box they chose together. Their intention is to open the box and read the letters on their first wedding anniversary. Then, they will each write new love letters sharing their dreams and wishes for their next 365 days together. What a fabulous way to honor the joys of their present and the anticipation of their future!
Photos courtesy of Danette Pascarella Photography