Cindy Guessford: http://cindyguessfordphotography.com
"From the moment we first spoke with Pam, we knew we wanted her to officiate our wedding. She was professional, compassionate and put us at ease on the very first day. By the day of the wedding, she felt like a longtime family friend. Wanting a unique ceremony on the family farm, Pam guided us every step of the way, providing us with suggestions yet letting us develop a ceremony that truly reflected our personalities and beliefs. It was perfect! Pick Pam, There is no question, she is the best in Berks and beyond! Thank you so much for a truly unforgettable experience. You are phenomenal!"
—Holly and Ryan
---
Thank you for being part of our historic day!
— Nick and Robert
---
Christopher Barth http://christhephotographer.com/
"We are so fortunate to have found Reverend Pam. After our first contact with her, we knew she was the person who was to marry us. Not only did she take time to meet with us, learn about us and what we wanted for our wedding, help guide us step by step along the way helping us to make the most beautiful and perfect ceremony for the two of us, and be 100% available to us (with immediate responses to any of my questions), but her calming presence added such a sense of comfort during the high stress of wedding preparation. Rev. Pam is also all accepting, being open to any unique elements you wish to have in your ceremony (such as a high five between us as part of our ceremony, our dog as the ring bearer, men on the bride's side, women on the groom's side, etc). She was such a special part of our amazing day, that we hope to maintain contact with her. Anyone who chooses her will feel honored to have her as a part of their special day – she won't be just one of the many vendors you select for your wedding, but a special part of one of the biggest days of your life."
—Nicole and Shaun
---
We can't thank you enough for all you have done for us. The ceremony was beautiful!
—Maryann and Kelly
---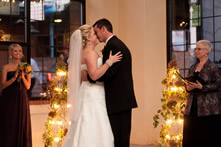 "Reverend Pam is an amazing woman and all of our family and friends are still talking about how beautiful, personal and warm our ceremony was thanks to her. From the first time we met her, she was so friendly and made us feel comfortable right away, as if we had always known one another. As we wanted to come up with our own ceremony as much as we could, she let my husband and I look through countless examples of readings, poems, sayings and unique customs that she provided to us. We loved taking pieces of what we liked and having her help us put them together and she really had some great ideas for getting our readers and family involved as well. I can't say enough wonderful things about Pam and we will always remember everything about what she said at our ceremony and how she made us feel. We also have our entire ceremony to go back and read whenever we want as she provided us with that as well. We love her so much!"
—Liza and Win
---
"Rev. Pam was referred to us by a friend and we are glad to refer her to others. She was amazing the day of our wedding, walked the nervous groom through everything and was understanding of issues that arose due to another vendor. We would get gentle reminders throughout the planning process if we seemed to be behind schedule. She also gave us tons of ideas for vows, readings, blessings, you name it. She also recommended the DJ we used and we loved him! She has a wealth of knowledge and experience to offer that is invaluable to a couple that had little to no idea what to do."
—Melanie and Dave
---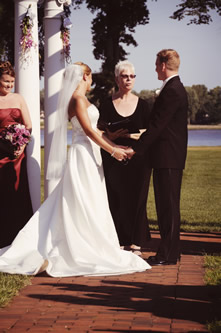 Sharyn Frenkel http://sharynfrenkelphotography.com/
"Pamela Brehm was amazing to work with since day one. I remember the first time we spoke we talked for at least forty-five minutes about what my fiancé and I were looking for and what we had in mind for our ceremony. She was extremely flexible and offered her advice and opinion when I needed it. She also provided us with different options for the wording of our ceremony which we truly enjoyed having that option. Thereafter, we had several phone calls with her to discuss the ceremony. She was always available when we needed her, always prompt in getting anything to us, always very pleasant and open to our questions, always took more than enough time to answer any questions or concerns that we had, and most importantly, she did a fantastic job at our ceremony!!! She was a joy to work with and we feel blessed to have had her perform our ceremony!"
—Kate and Chris
---
Pete. K Photography petekphotography.com
"From the first time I spoke with Rev. Pam I knew she was the perfect person to perform our wedding ceremony. She was extremely kind and caring. She was very responsive and went above and beyond returning phone calls, sending e-mails and preparing the ceremony for our special day (even while she was away on vacation). I met Rev. Pam and her husband the day of our wedding and I felt I had known her for years!! I think calling what she does a "service" (in recommending her) is an understatement and seems very impersonal. The experience you will have from the first contact will be warm, caring and a very personal experience to make your day special!!'
—Mary Alice and Andy
---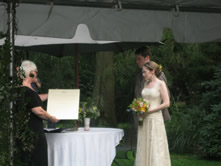 "Rev. Pamela Brehm was the perfect choice to officiate our wedding ceremony. She offered prompt responsiveness, enthusiasm, and support every step of the way. She was always available via email and phone which I really appreciated, as out of state wedding planning is challenging. She allowed flexibility in meshing together a mixture of elements for my ceremony so that I could incorporate Quaker traditions. It helped that she had eight wonderful and diverse ceremony pieces to choose from on her website which provided a good basis to add my own elements. Her review and editing of the ceremony I put together was very helpful, to have that support was a blessing in the midst of busy wedding planning. I really appreciated her professionalism in efficient set up and her skill in public speaking. Thanks so much Pam!"
—Jen and Ben
---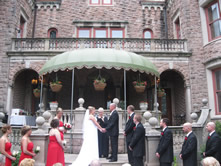 "Rev. Pam was wonderful to work with. She made sure we realized it was our special day and she would be there for any questions we might have had throughout the planning process. She gave us examples of vows we might want to use, and if we didn't like something in a line or paragraph she made the change in order to keep us both comfortable for our ceremony. She was also very open to any additions we wanted to make in order to keep it as personal as possible. We would recommend her to anyone for any service they might need. We were so lucky to have had her as our officiant. We love you Pam!"
—Melissa and Ryan
---
Michael and Melissa McManus – M2Photography http://m2-photography.net/
"We found Pam through Wedding Wire, and we are so glad we did! From the first time I emailed her and continuing after our wedding, Pam has been incredibly friendly, knowledgeable, responsive, and professional about everything! She helped guide us through the planning of our ceremony, offered suggestions, and was happily open to what we wanted to do. We met with her a few weeks before the wedding and she eased our nerves about the ceremony organization. On the wedding day, she was able to coordinate with all of the other vendors and our wedding party to make sure everything ran as planned. We can't imagine our wedding day being any more perfect and all of this would not have been possible without the professionalism, expertise, kindness, and guidance of Pam!"
—Jackie and Randy
---
Mic Miller http://www.micmillerstudios.com/
"My husband and I were married on a rainy Saturday evening in Pam's backyard. Our tiny wedding in front of Pam's grape arbor was picture perfect. We will cherish that memory ever so sweetly for the rest of our lives. Pam performed our modest ceremony just beautifully, and she was very attentive to our needs during the planning phase of our wedding. In fact, Pam accommodated our request to move up "the date" with joyful excitement. She also helped us find a terrific photographer! We are so happy to have met Pam. She is a wonderful person, and we recommend her highly."
—Denise and Tom
---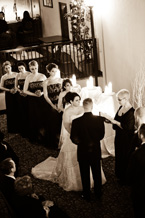 "My husband and I wanted something different from the "traditional" wedding vows and customs. Pam walked us through different options to choose from and gave us some great ideas. When we sat down with her to decide the details of the ceremony, she allowed and encouraged us to make the ceremony unique to our needs and wants. Pam made it possible for our ceremony to show in our own way who we are and what we mean to each other. Words can't express our gratitude to Pam for making our ceremony so beautiful! Not to mention in order for her to get there she had to drive in one of the worst snowstorms on record."
—Melanie and Matt
---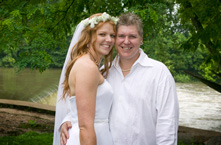 "My husband and I were married on June 20th 2009 by Rev. Pam. I cannot express in words what a wonderful woman she is and what a wonderful job she did during our ceremony. What we liked about Rev. Pam is that the ceremony we had was completely customized for us. We are unique individuals and wanted our ceremony to express our feelings about one another in our own unique way. The ceremony was written so well people thought we wrote the ceremony ourselves. Thank you very much Rev. Pam for the most wonderful day of our lives so far! Lots of Love!"
— Jess and Bryan
---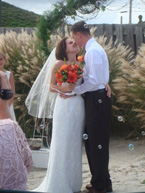 "Reverend Brehm did a wonderful job with our wedding, especially on such short notice. My husband is a Marine and is to be deployed shortly. We were forced to move our wedding date up an entire six months, but thanks to Pamela our day was just as precious as if we had years of planning. Although we may have struggled through our vows, attempting to fight through the tears, our ceremony was incredibly personal. We truly appreciated the opportunity to create and customize our own."
—Rochelle and Trey
---
Photos by Chrissy Kafkalas of Chrissy K Photography
"We were lucky to have been able to skip the search for an Officiant for our wedding after we were both in a wedding officiated by Rev. Pam. After seeing her compassion and patience in working with the shy flower girl and easily distracted ring bearer, I knew she was the one for us! We asked our friends who had been married by Pam for their feedback and heard glowing reviews about her ability to help create the perfect vows and be easy going yet very reliable. Pam did a great job and was always easy to reach. We created the perfect vows for us. Pam was amazing to work with and we would recommend her to anyone!"
—Amber and Matt
---
"You made our day very beautiful and our hearts very glad. Thank you so much for a wonderful service."
—Victoria and Casey
---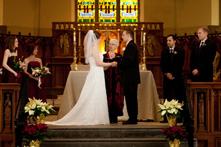 "We were so excited to have Pam officiate at our wedding. It was wonderful how she assisted us in creating vows that suited both our wishes. Our perfect wedding day would not have been the same without her. We were truly blessed to have her be a part of our ceremony."
—Corinne and Isaac
---
"We absolutely loved the service provided by you, Rev. Pam and couldn't have imagined anyone else doing our ceremony. She truly made our wedding day what we had envisioned! Your caring heart, kindness, willingness to help and professionalism were unbeatable! We couldn't have asked for more. Thank you again for everything!"
—Rina and Jon
---
"We feel blessed to have had Pam participate in our ceremony and to help us create a unique interfaith ceremony. The ceremony was beautiful and it meant so much to us both to have her spend so much time getting to know us and to include elements that we selected."
—Ellen and Vinay